Weddings at The Barn
Your perfect Colorado mountain wedding awaits you at The Barn at Sunset Ranch. Pristine views of Mount Princeton and an amazing ceremony site create the perfect setting to declare your love and exchange your vows. The Barn itself is elegant yet rustic, brand new yet timeless. We've carefully included everything you need to stage your celebration. You'll find our wedding packages affordable and inclusive. Please…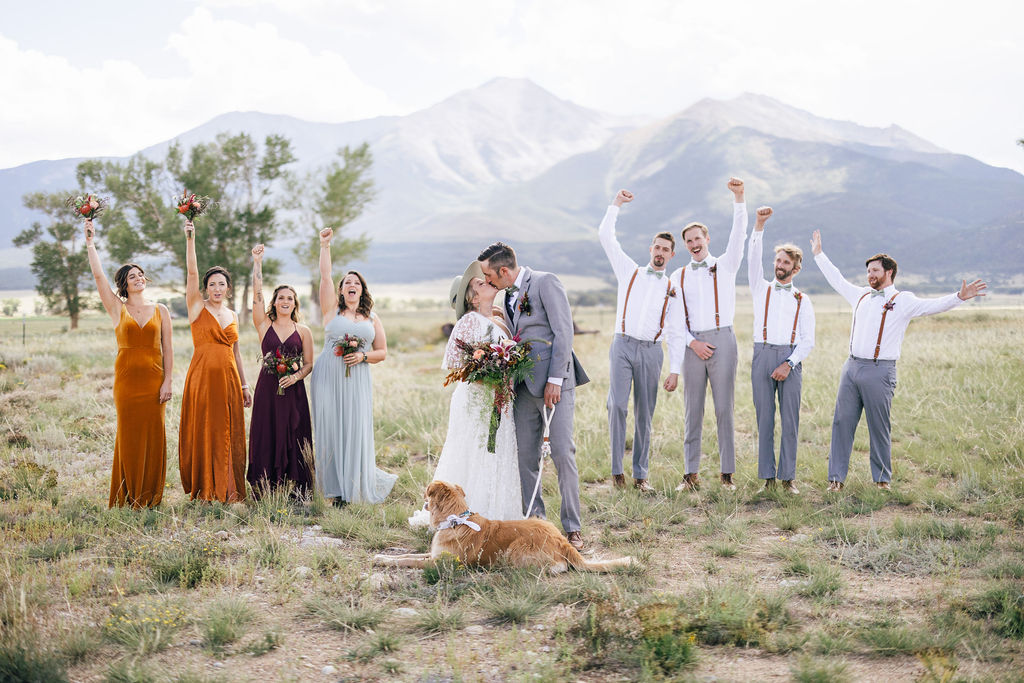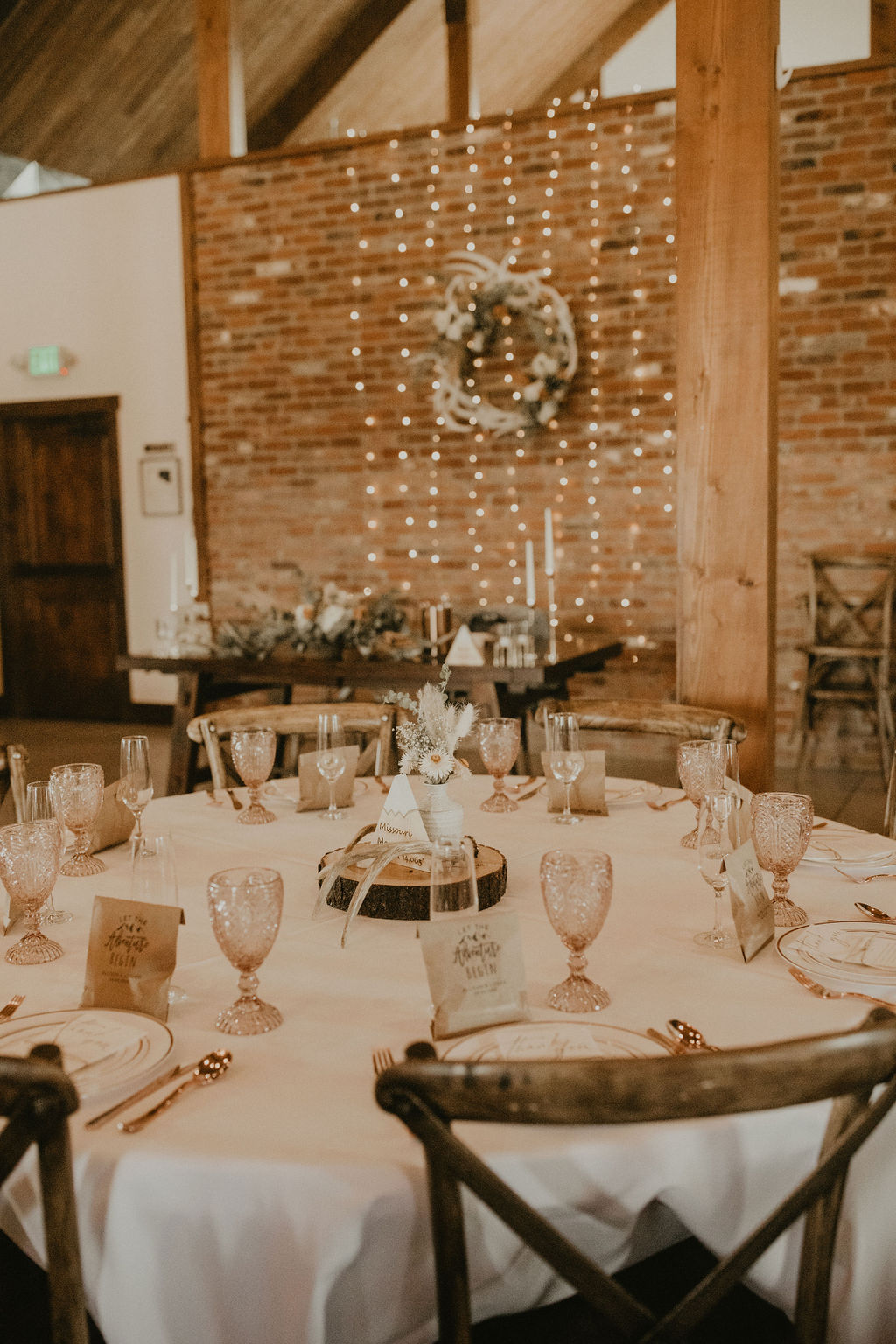 2025 Pricing
Now booking weddings from May thru October!
Weekday weddings start at $7,000 and Friday, Saturday, and Sunday weddings start at $8,500.

The Barn accommodates up to 160 guests. Please visit us to ensure there will be adequate space for your desired activities. What's more is the newlyweds are welcome to bring their fur babies!

To secure your date, a deposit of one half of the rental package/fee is due upon booking along with the return of a signed contract.
What's Included
The Barn at Sunset Ranch will provide the following amenities:
Wedding ceremony meadow with seating, an arch, and beautiful mountain views
20 round tables (72" in diameter) and wooden cross-back chairs for use at reception
3 long tables (72" x 30")
Large heavy wooden table for serving (10′ x 3'6″)
Large flat screen television for slide shows
Bridal Suite complete with dressing tables and mirrors
Groom's Quarters
Heat and air conditioning for year-round comfort
Caterer's staging area with a large commercial refrigerator
Men's and Women's restrooms, ADA accessible
Close parking and parking attendants with ADA accessible parking close to building
One-hour walk through prior to event
Outdoor game area (weather permitting)
4 whiskey barrel cocktail tables on outdoor patio
Patio area with bistro lights
Fire pit with two large gas fire pits
We recommend a Day of Coordinator wedding service for your wedding day. If you are interested in this service, please visit our Plan Your Event page. A Day of Coordinator is not a wedding planner. The coordinator will be available to help things go smoothly throughout the day of the event.
What is your cancellation policy?
If the Barn at Sunset Ranch is unable to fulfill this obligation for any reason under this contract, the entire deposit will be refunded. In the event of cancellation by the couple, one-half of the deposit will be refunded if The Barn at Sunset Ranch is able to rebook another wedding on that date.
What is the payment schedule? Is there a deposit?
50% of the rental fee is due at booking. Final payment in full will be due two one (1) month prior to the Wedding Day. At that time, a refundable damage deposit of $500.00 will also be due, as well as proof of wedding liability insurance. The damage deposit will be returned to the couple within two (2) weeks of the event once the property has been inspected for any potential damage during the event, or any excessive cleaning was needed.
Do you require liability insurance?
Yes, we do. We want your event to center around enjoying the moment. As such, event insurance is required for events at The Barn at Sunset Ranch. This insurance protects you and your guests if you are held liable for property damage or bodily injury. It will also cover any unforeseen circumstances associated with your special day. It is not expensive and is worth every penny. There are two policies required: a liability policy and a cancellation policy. The cost of the policies are reduced when you purchase them together. Wedsafe.com and Wedsure.com are our preferred insurers. The insurance policy must have a per occurrence limit of at least $1,000,000 and the policy must be presented one (1) month prior to your wedding.
Can we use our own caterer?
You may use any caterer you wish and can choose any option you would like from delivered pizza to a do-it-yourself pot luck to a fully catered event. Our desire is that the venue be returned to the condition in which it was found prior to your event. Please see "Plan Your Event" for catering options.
We will need proof of liability insurance from your caterer one month before your event. The Barn at Sunset Ranch does not offer food handling or food safety services. You and your food vendors are solely responsible for all compliance with food health and safety standards.
What is your smoking policy?
What is your decorating policy?
You understand you may only use non-damaging ways to suspend decor, such as easels. No command strips, tacks, nails or screws are permitted on walls or columns. The use of candles is allowed; however, they must be contained in glass holders with the flame below the top of the container. 
Signs may be placed around the outside of the building, or inside. Please do not remove or move rocks from our landscaping. Please do not move the bench seating at the ceremony site. Nothing can be scattered or tossed at the ceremony site (ie: the flower girl, ceremony recessional, or newlywed farewell). Bubbles are accepted. Any damages to the property and/or equipment will result in an additional charge which will be deducted from the damage deposit and/or added to the final bill. If you have any questions, please contact us to discuss your decorating dreams.
What is your alcohol policy?
The Barn at Sunset Ranch does not provide or sell alcohol. You may bring your own wine, beer, cocktails, and signature drinks to serve at your event. We do require that the alcohol is served by our drink caterer, The Pour Trailer, for an additional fee. Wedding guests are not permitted to bring in or consume their own alcohol. No minors under the age of 21 may be served any alcohol. Alcohol service cannot exceed six hours.  A soft closing must be conducted 30 minutes prior to the closing of the event. By serving alcohol at your event, you assume responsibility for any damages, injury, etc. due to consumption. Please contact Sandy at The Pour Trailer at thepourtrailer@gmail.com for more information.
Who is responsible for cleaning the venue after our event?
While the building host and caterer take care of the facility, ultimately, the client is responsible to ensure that the venue is left in the same condition in which it was found. The Barn staff will take care of the floors and restrooms. All decorations and props you have brought with you need to be removed
Check Availability
To change months, click the dropdown menu or left/right arrows.